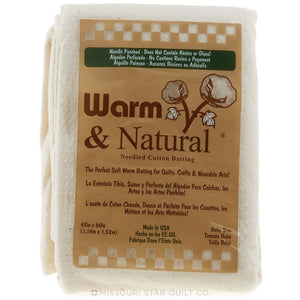 Crib 45" X 60"
Only the highest grade, 100% cotton fibres are selected to be punched with hundreds of needles through a strong, thin base material. This needling process holds the fibres together without glue and your needle will easily glide through your quilt.
Pre-washing is not necessary.
A favourite with Quilter's 
87.5% natural cotton and 12.5% polypropylene.

Made in the USA. 

Benefits of Needlepunch Batting.
Will Not Separate or Bunch
Contains No Resins or Glues
Will Not Shift, Migrate or Beard
Quilt or Tie Leaving up to 10″ Open
Once Quilted, Machine Wash & Dry