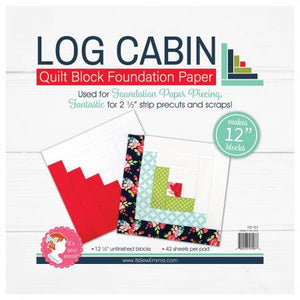 Create perfect Log Cabin quilt blocks with the Log Cabin Foundation Paper Piecing Pads from It's Sew Emma!
The 12-inch block pad pairs perfectly with scraps or 2 1/2-inch Jelly Roll strips as well.
These pads are perfect for quilters trying Foundation Paper Piecing for the first time.
With shaded diagrams for colour placement, fabric cut sizes, and easy-to-follow numbers, these papers will give accurate results each time.
Each pad yields 42 blocks and opens up so many design possibilities. Great for classes, retreats, sew alongs and block swaps!