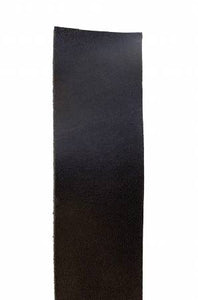 Easy to sew leather straps - a bag maker's dream! These straps are 1.25in wide and 45in long. 100% real leather straps. Leather straps add a classic touch to any bag and work well to speed up the bag-making process. No hardware is needed, these leather straps are completely sew-able meaning you do not need to use rivets or hardware to attach them to bags.
Color: Black

Made of: Leather

Use: Bag Making

WIDE Size: 45in (L) x 1.25in (W) x 1/8in 
Includes: One strap
NOTE: each strap is sold separately - so if you intend to have long straps you may need two.