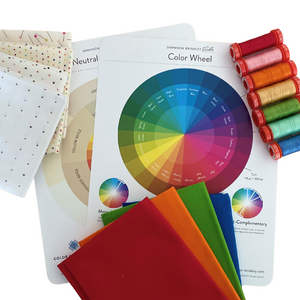 A color wheel is a fun addition to every crafter's toolbox. If you are a quilter, painter or simply decorating your home, a color wheel can help you pick a color palette perfect for you!
I use my Color Confidence for Quilters Color Wheel all the time when deciding on final color combinations. If I want a calming effect for my project - then I move to  Analogous or Monochromic color mixes. If I am looking for a dramatic effect then I use my color wheel to find the perfect Complementary combination!
Designed by Shannon Brinkley, the Color Confidence for Quilters Color Wheel is printed on quality card stock. This is a two-sided tool featuring a 24 Color wheel on one side and a Neutral color wheel on the reverse side. 
Note: price includes one color wheel only.